The Bel Ordinaire is an exhibition space belonging to the urban community of Pau Béarn Pyrénées.
The Bel Ordinaire is an exhibition space belonging to the urban community of Pau Béarn Pyrénées, welcoming visitors from mid September to the end of June. It covers the fields of graphic design and contemporary art through monographic and group exhibitions, which are free of admission. Alongside the exhibitions, the Bel Ordinaire also runs a residency program on site to support the development of new or research projects.
The Bel Ordinaire presents six exhibitions per season in its galleries as well as one offsite exhibition. Each of which allows locals and visitors from further afield to discover varied artistic proposals and visions. Our team proposes guided visits, workshops, conferences and opportunities to meet with the exhibiting artists and artists in residence; allowing you to discover artworks under a new angle, learn to decipher, or simply share a moment.
Activities
- exhibitions all year long : monographic, collective, thematic or guest curated,
- an 'artist in residence' program,
- talks, guided tours of the galleries and residents'studios, workshops, meetings with artists for visitors of all ages.
Aims
-reinforce the dissemination of visual arts on the territory of Pau Béarn Pyrénées region (CAPBP),
-support contemporary art and design creation,
-promote the artistic presence on the territory,
-enable access to contemporary art with a wide outreach.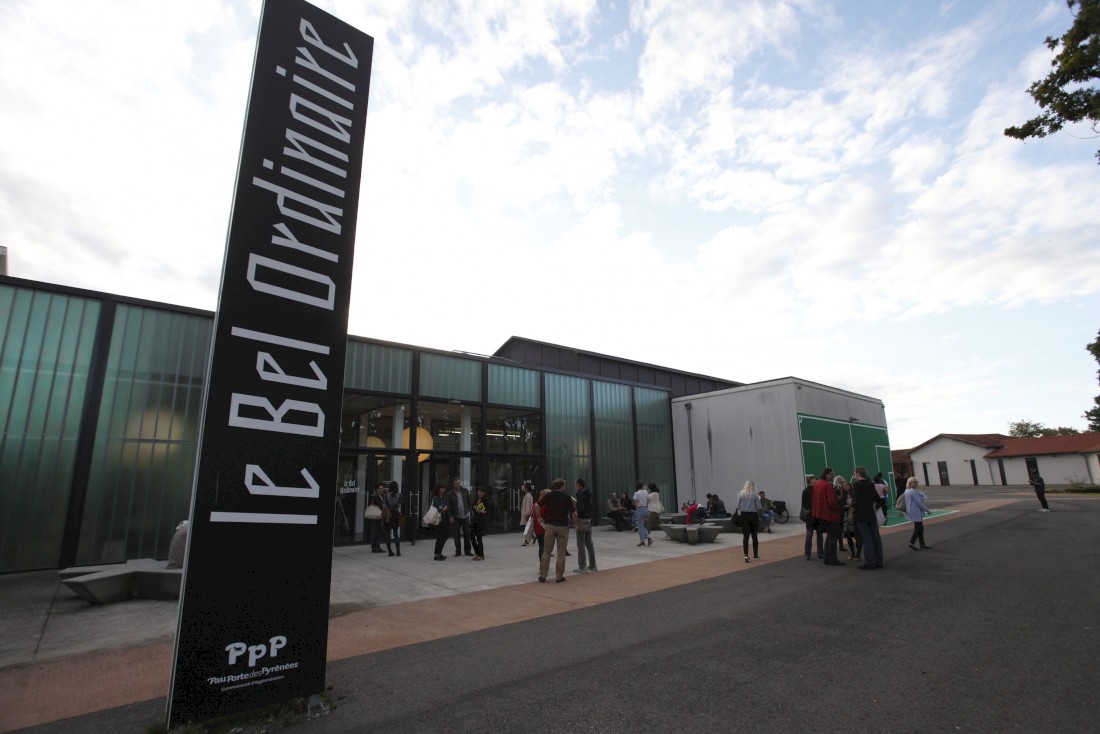 © Costes
Artists residencies
In order to fulfill its mission in supporting the artistic creation, the BO is endowed with equipments enabling and optimizing working conditions for artists or artistic teams in residence. Each artist enjoys a specific working period and tools to experiment, create and materialise his/her project. A creative space, not less than 1000 m2, is provided to the residents. It includes a workshop space with numerous machine tools, a paint booth, a screen printing workshop and five autonomous creative studios of 50 m² each. In addition to the working spaces, the artist can be provided with an accommodation: an en-suite bedroom with a desk, Internet access and a shared kitchen. Alongside material means, the BO also offers a permanent team to help the artists with technical skills or support to a project.
Creative spaces are accessible all year
The 4 individual studios, each 50 m², are accessible to artists in residency without schedule limitations. Access to the construction, screen printing and paint booth workshops, is subjected to the presence of the BO's team, and to a validation of the artist's skills to use the equipments.
Individual studios 
These are designed to enable the realisation of an artistic project in a professional context. Each studio has within it a work surface, shelves, and a water point. They are adjoined by the construction workshop  and paint booth, both equipped with numerous machine tools. They are provided within the BO's residency program, with or without grant assignment. These provisions are decided following the proposals of a project.
Contact
Le Bel Ordinaire, espace d'art contemporain
Claire Oyallon, assistante de direction
les Abattoirs, allée Montesquieu
F-64140 Billère
T : +33(0)5 59 72 25 85
c.oyallon@agglo-pau.fr
http://belordinaire.agglo-pau.fr/